3 Reasons To Sell Your Central Oregon Home This Winter

With demand at an all-time high, sellers are in for a hot buyer market this winter in spite of outside chilly temps
Spring is often referred to as the "home buying season", a typically popular time to sell a house with many buyers moving into a new home ready for the upcoming school year. 2020 was a year like none other and all the norms were thrown out the window changing the market practically overnight with stay-at-home orders, remote work taking center stage and online schooling. Buyers, now more than ever before, are leveraging online and virtual tools to search for homes and research communities, and as the school year looks a little different for many across the nation, a true  "home buying season" is now a thing of the past.
Why is now a good time to sell?
There simply are not enough homes available to meet today's buyer demand, and they're selling just as quickly as they're coming to the market. According to the National Association of Realtors (NAR), unsold inventory available today sits at a 2.3-month supply at the current sales pace, which is down from a 2.5-month supply from the previous month. This record-low inventory is not even half of what we need for a normal or neutral housing market, which should have a 6.0-month supply of unsold inventory to balance out.
According to the latest Realtors Confidence Index Survey from the National Association of Realtors (NAR), buyer demand across the country is incredibly strong. That's not the case, however, on the supply side. Seller traffic is simply not keeping up. Here's a breakdown by state: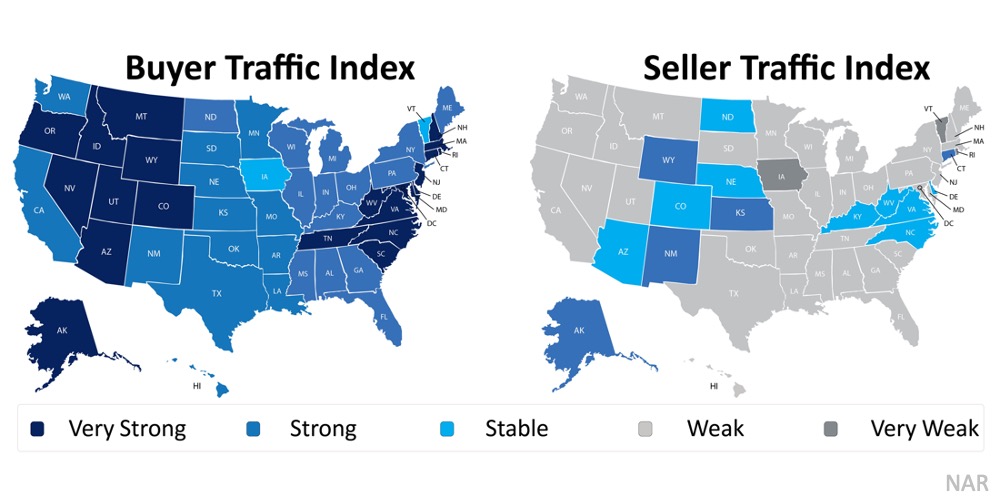 As the maps show, buyer traffic is high, but seller traffic is low. With so few homes for sale right now, record-low inventory is creating a mismatch between supply and demand. (Source: Keeping Current Matters)
3 reasons why selling your Central Oregon home this winter is a good idea
1. Lower inventory = less competition, for now
In Central Oregon, winter is not a slow season. Not for real estate, visitors to the area, or outdoor fun. People want to live here and the snow season just makes it that much more special for those season pass holders to Mt. Bachelor and mountain explorers. Factor in the influx of remote workers moving into the area as a result of the pandemic and we're experiencing a larger buyer pool ready to buy.
With so few homes available for buyers to choose from, we're in a true sellers' market. Homeowners ready to make a move right now have the opportunity to negotiate the best possible contracts with buyers who are feeling the pull of intense competition when it comes to finding their dream home. Lawrence Yun, Chief Economist for NAR, notes how quickly homes are selling right now, further confirming the benefits to sellers this season:
"The market is incredibly swift this winter with the listed homes going under contract on average at less than a month due to a backlog of buyers wanting to take advantage of record-low mortgage rates."
However, this sweet spot for sellers won't last forever. As more homes are listed this year, this tip toward sellers may start to wane. According to Danielle Hale, Chief Economist at realtor.com, more choices for buyers are on the not-too-distant horizon:
"The bright spot for buyers is that more homes are likely to become available in the last six months of 2021. That should give folks more options to choose from and take away some of their urgency. With a larger selection, buyers may not be forced to make a decision in mere hours and will have more time to make up their minds." (Keeping Current Matters)
2. You get to show your home's winter-readiness
Selling in the winter gives you the opportunity to show that a home is designed to handle the harsh elements.  Highlight features such as fireplaces, hot tubs, a heated driveway, or even just a place to store your skis, snowboard, and gear. In-person or via video, you want to showcase your home's appeal and winter readiness. Leverage virtual tours and professional photography to show off your home's unique features and proximity to outdoor adventures to visually attract those buyers and thrill-seekers.
Clear a pathway if there's snow/ice, turn on lights throughout the home, make sure the heat is on, leave a mat by the front door for snowy boots, and if you have one, light or turn on the fireplace (as long as it won't be unattended for long). Create a cozy, welcoming environment for potential buyers to feel at home.
We're following all COVID-19 guidelines for in-person showings and prior to making an appointment, we'll confirm the potential buyers are able to purchase, and we'll work with you to prepare your home for buyer viewing. Read more: What To Expect | Selling A Home During COVID-19
3. Winter brings out the serious buyers
Pre-pandemic, not everyone looking at homes for sale or attending open houses were actually intending to buy. With COVID-19 showing restrictions in place, buyers curating their must-see list of homes as they leverage online tools, and looky-loos less likely to brave the winter elements, the traffic through your home will be viewed by serious buyers that are ready and able to actually make a move.
Quick Links:

Let's work together 
If you're thinking of buying or selling, we welcome the opportunity to work with you. We know our local market and we can strategically determine your best move forward. Learn more about how we sell homes here, or simply fill out your info below and we'll follow up promptly: