How To Be A Competitive Buyer In Today's Market

Home buying strategies to help you compete in today's fast-paced seller's market
The question many homebuyers are facing this year is, "Why is it so hard to find a house?" We're in the ultimate sellers' market, which means real estate is ultra-competitive for buyers right now. The National Association of Realtors (NAR) notes homes are getting an average of 4.8 offers per sale, and that number keeps rising. Why? It's because there are so few houses for sale.
Low inventory in the housing market isn't new, but it's becoming more challenging to navigate. Danielle Hale, Chief Economist at realtor.com, explains:
"The housing market is still relatively under supplied, and buyers can't buy what's not for sale. Relative to what we saw in 2017 to 2019, March 2021 was still roughly 117,000 new listings lower, adding to the pre-existing early-year gap of more than 200,000 fresh listings that would typically have come to market in January or February. Despite this week's gain from a year ago, we're 19 percent below the new seller activity that we saw in the same week in 2019."
With homes selling as quickly as they hit the market, it's essential to be a competitive, prepared, and patient homebuyer.  These 7 home buying tips will give you the confidence and knowledge you need right now:
Meet with your lender early and get pre-approved
Know your must-haves and nice-to-haves
Be ready to move fast
Make your offer strong, without overextending yourself (Don't Let FOMO Fuel Your Home Buying Decisions)
Be prepared for a bidding war
Be patient, and be prepared to potentially write several offers on homes due to the competitive nature of this current market
Lean on your real estate professional as an expert guide along the way
The opportunity for buyers right now: low mortgage rates
Today's most compelling buyer incentive is low mortgage interest rates. The 30-year fixed rate is now averaging just over 3%. While that's slightly higher than the record-lows from 2020 and earlier this year, it's still way lower than historic norms, making purchasing a home an ongoing perk for hopeful buyers (See graph below):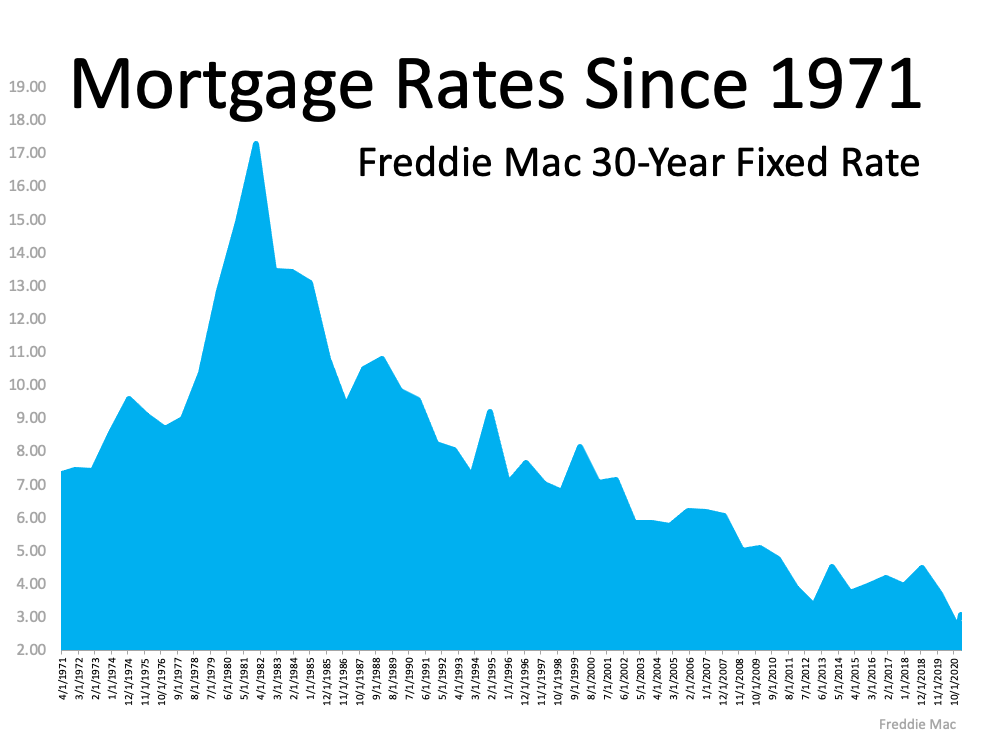 This is a huge advantage for buyers and helps to make owning a home attainable for more households – and there's good reason to strive for homeownership. The latest Homeowner Equity Report from CoreLogic shows how homeowners saw major gains in their net worth last year, all thanks to owning a home. Frank Martell, President and CEO of CoreLogic, explains:
"Positive factors like record-low interest rates and a booming housing market encouraged many families to enter homeownership. This growing bank of personal wealth that homeownership affords was noticed by many but in particular for first-time buyers who want a piece of the cake. As a result, we may see more of those currently renting start to enter the market in the near future."
Low mortgage rates are a plus for buyers right now, but experts forecast we'll see them continue to rise as the year goes on. If you're ready to purchase a home, it's wise to get started on the process soon so you can secure today's comparatively low rate.
More inventory is expected to become available later this spring, said Danielle Hale, chief economist at Realtor.com. That will at least provide more selection, but not necessarily price relief. More sellers typically show up at the beginning of May, she said, but there will still be more buyers than homes. So if buyers are hoping to sit it out and wait for lower prices, they may be disappointed. Though rising rates could eventually lead to lower prices in the long term, buyers who hesitate could miss out on the benefits of historically low rates in the short term.
(Source: CNN Business)
Let's work together
If you're a buyer that's ready to make a move, we'd love to help. Get in touch via the form below and let's put a strategic home buying plan in place for you: